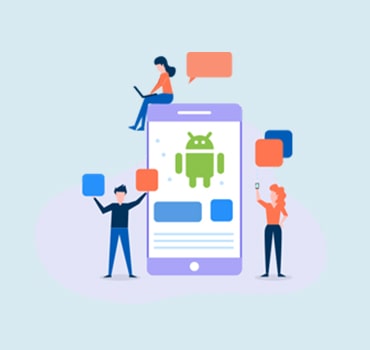 Android App development is the procedure by which applications are design for gadgets functioning the Android operating system. Java and XML are the two main computing languages helped in Android App development. Intelligence and familiarity over these registered languages.
Are you still searching for good agency of app developers then "Expert Code Lab" have a team of experts in latest platforms. Our experts have every corner of the Android podium, descending to its support. We have the convention of functioning with each Android device variety, brand, and custom environs. Our Android app development services will give you a decisive product that applicable to the platforms customers. We develop app for Construction, Insurance, FinTech, Healthcare, Retail & e commerce and many more
We are using:
Java
Kotlin
JavaScript
XML
·

Accessibility of Users
ECL can evolve Android app for accommodation of customers. There are many facet of user cooperation that can be complete with the support of mobile app. Services used by people on PC can be applicable in mobile app which generate very easy to manage.
·

Develop Proceeds and Sell-off
The direction is deviate abstain as higher and more people have initiated promoting e-commerce from their smartphones. People trench items and profit that keep them fast in one corner.
·

Recede On- Estimate Lack
ECL can bring our service through mobile apps for this you don't need to pay to workers that definite job just pay to android app development .